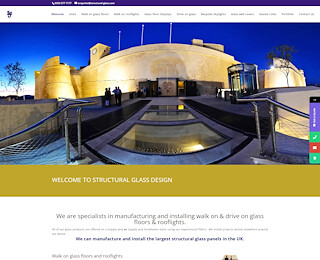 Structural Glass Design
manufactures and installs drive on glass floors and rooflights.
* High specification triple laminated within triple glazed unit.
* Stainless steel upstand.
* Anti-slip surface.
* Fast turnaround.
* Made to measure.
* Structural frameless glass solution.
Our teams of experienced installers will ensure that your drive on glass is installed safely and efficiently.
Drive on glass floors and rooflights are the ideal solution for dark basements and driveways where space is at a premium.
See our website for details  
www.structural-glass.com/drive-on-glass/.
Drive On Glass Floors And Rooflights
We welcome your comments!
Glass floors & Rooflights
Fast turnaround on walk on & drive on structural glass floors and rooflights.
* Minimalist frameless glass.
* 21 day lead time on supply only.
Drive on glass floor / rooflight
Aluminium hybrid windows, doors & curtain walling
Get in touch with us today to find out more about how our hybrid aluminium can provide a complete solution for your project.
Choose from a wide variety of colours and finishes, both inside & out.
Select our high quality glazed units for a complete system solution with guaranteed thermal efficiency, noise insulation and reliable long-lasting seals.